Dear Friends,
Thank you to all of our supporters who attended our annual Spring Reception yesterday evening, where we welcomed Matt Pottinger, the National Security Council's Senior Director for Asian Affairs, for a discussion about US-China relations moderated by Paul Haenle, Director of the Carnegie-Tsinghua Center for Global Policy.
We were also joined by Reps. Darin LaHood (R-IL) and Rick Larsen (D-WA), co-chairs of the US-China Working Group, and Laura Lane, President of Global Affairs for UPS.
Reps. LaHood and Larsen, US-China Working Group Co-Chairs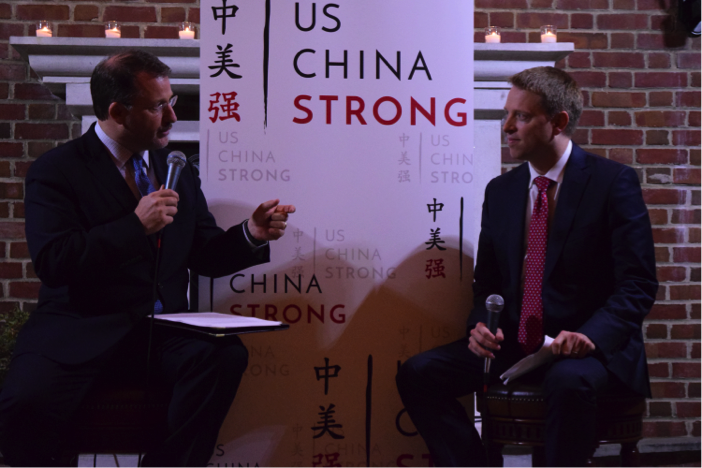 Matt Pottinger was joined by Paul Haenle, who served as moderator for the fireside chat
 "It's an honor to welcome everyone here tonight as we discuss the importance of the US-China relationship, and how people-to-people ties and language learning help strengthen and grow that relationship." – Acting CEO Eugene Huang
Thanks to all who attended our Spring Reception, and a very special thank you to UPS and the Wanxiang Group – two of our valued partners – as well as Matt, Paul and Reps. LaHood and Larsen. We enjoyed such a wonderful evening and are so grateful to all who support US-China Strong and our mission to strengthen US-China relations by investing in a new generation of leaders who have the skills and knowledge to engage with China. Visit our WeChat Official Account (OA) to learn more about the reception, our partnerships and our students.
Thanks, as always, for your support.
The US-China Strong Foundation